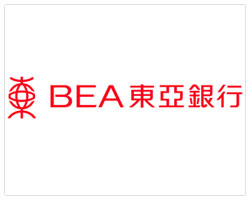 The Bank of East Asia, Limited
Labuan Branch

Licence No 960055C
Swift Code : -

www.hkbea.com

Labuan Office
Address
Level 10 (C), Main Office Tower, Financial Park Labuan, Jalan Merdeka, 87000 Labuan F.T. Malaysia
Tel. No
6087 - 451 145
Fax No
6087 - 451 148
Contact Person
Mr. Kenneth Leong Yu Ming
Email
LEONGKYM@hkbea.com
Marketing Office
Address
Level 12, Tower 2, Etiqa Twins, 11, Jalan Pinang, 50450 Kuala Lumpur
Tel. No
603 - 2161 6210
Fax No
603 - 2715 8232
Contact Person
Mr. Gabriel Loh
Email
lohgjp@hkbea.com.my
Corporate Profile / Background
Incorporated in 1918, BEA is Hong Kong's largest independent local bank, with total consolidated assets of HK$765.7 billion (US$98.7 billion) as of 31st December, 2016. Listed on The Stock Exchange of Hong Kong, the Bank is a constituent stock of the Hang Seng Index.

BEA offers customers a comprehensive range of corporate banking, personal banking, wealth management, and investment services through an extensive network of more than 220 outlets covering Hong Kong and the rest of Greater China, Southeast Asia, the United Kingdom, and the United States. For more information, please visit the Bank's homepage at www.hkbea.com.

BEA has maintained an operational presence in Mainland China since the opening of its Shanghai Branch in 1920. In April 2007, BEA established The Bank of East Asia (China) Limited ("BEA China"), one of the first wholly-owned, locally-incorporated foreign banking subsidiaries on the Mainland. BEA China is authorised to provide a full range of banking and financial services to a broad customer base that includes both local and foreign residents and enterprises.

BEA China operates one of the most extensive branch networks of any foreign bank on the Mainland. BEA China's network of 128 outlets includes its Headquarters in Shanghai, 29 branches, and 98 sub-branches in 42 cities nationwide. In addition to the BEA China network, BEA operates a rural bank in Fuping County, Weinan City, in Shaanxi Province.


Product and Services Offered
Conventional :
Credit Facilities
Deposits
Currency Offered : Predominantly USD / EUR
Trade Services including Standby Letter of Credit & Bank Guarantee