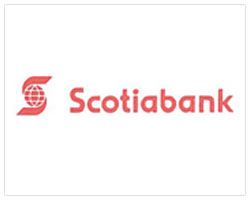 The Bank of Nova Scotia
Labuan Branch

Licence No 960052C
Swift Code : NOSCMY2L


Labuan Office
Address
Level 10 (C2), Main Office Tower Financial Park Labuan, Jalan Merdeka, 87000 Labuan F.T. Malaysia
Tel. No
+6 087-451101
Fax No
+6 087-451099
Contact Person
Ms Jane Lee Mei Chern
Email
bns.labuan@scotiabank.com
Corporate Profile / Background
"Established in 1832, The Bank of Nova Scotia (Scotiabank) is a Canadian Chartered bank subject to the provision of the Act of Canada. Our Executive Offices are located in Toronto, Ontario and Canada.

Today, Scotiabank is one of North America's premier financial institutions and Canada's most international bank, serving customers in more than 55 countries worldwide. With assets of $575 billion, Scotiabank offers a diverse range of financial services through a network of more than 1,000 branches and offices in over 55 countries. Our 75,000 employees are well-trained, motivated and committed to deliver superior service to our customers. Supported by the Scotiabank team, we continue to build on our core strengths - customer satisfaction, risk management, productivity and diversification - which form the fundamentals of our overall strategy and long-term success. Our goal is to be a leader in customer satisfaction and a market innovator in creating service options and products for customers.

The Scotiabank Group expanded in Asia Pacific in the 1970's and now operates in China, Hong Kong SAP, India, Japan, Malaysia, Republic of Korea, Singapore, Taiwan, Vietnam and egypt. Our Regional office is based in Hong Kong.

Scotiabank has a strong commitment to the Asia Pacific region and plans to continue its expansion through additions to its branch network and strategic alliances with local partners.

The Bank of Nova Scotia, Labuan Branch opened in February 1997 and today offers a complete range of services including foreign currency loans and Ringgit-denominated Bank Guarantee or Standby Letter of Credit."


Product and Services Offered
Conventional :
Credit Facilities
Deposits
Currency Offered : USD / CAD
Trade Services including Standby Letter of Credit & Bank Guarantee