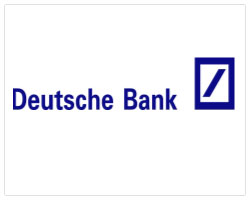 Deutsche Bank AG
Labuan Branch

Licence No 050093D
Swift Code : DEUTMYKLBLB

www.deutsche-bank.com

Labuan Office
Address
Level 9 (G2),Main Office Tower,Financial Park Complex,Jalan Merdeka,87000 Labuan FT
Tel. No
087-439 811 / 429 811
Fax No
087 - 439 866
Contact Person
Nur Hasnee
Email
nur-hasnee-taha.mdd-nordin@db.com
Corporate Profile / Background
With 18,000 employees across 17 financial markets, Deutsche Bank has a broad footprint in the Asia Pacific region, with licensing, in-country capitals and product strength providing significant competitive advantage.

Asia-Pacific is an important and growing contributor to the Deutsche Bank franchise, with regional revenues up from 4% in 1995 to 11% in 2011
Product and Services Offered
Corporate Banking & Securities
Corporate Banking & Securities (CB&S) comprises two businesses: Corporate Finance and Markets; it includes regional coverage in the Bank's key growth areas
Corporate Finance
is split into Investment Banking Coverage & Advisory and Global Capital Markets groups.
Markets Partners
Markets partners with financial institutions, governments and sovereigns for their sales, trading, structuring and research needs across equities, fixed income, currencies and commodities.
Global Transaction Banking
Provider of Cash Management, Trade Finance and Trust & Securities Services for corporate clients and financial institutions across the globe.
For more information on Deutsche Bank AG's 'Group Capital' full year latest sumary
Kindly refer to https://www.deutsche-bank.de/ir/en/download/Financial_Report_2011.pdf