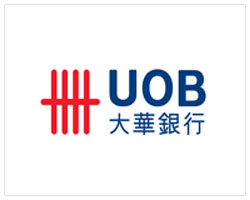 United Overseas Bank Limited
Labuan Branch

Licence No 940033C
Swift Code : UOVBMY2L

www.UOBGroup.com

Labuan Office
Address
Level 6A, Main Office Tower, Financial Park Labuan Complex, Jalan Merdeka, 87000 Labuan F.T., Malaysia
Tel. No
6087 - 424 388 / 424 005
Fax No
6087 - 424 389
Contact Person
Conrad Ng Swee Seng
Email
Conrad.NgSS@uobgroup.com
Marketing Office
Address
Level 14 Menara UOB, Jalan Raja Laut, 50350 Kuala Lumpur, Malaysia
Tel. No
03-27726962
Fax No
03-26939266
Contact Person
Yiam Pey Luen / Cecilia Sequerah
Email
Yiam.PeyLuen@UOBgroup.com / Cecilia.Sequerah@UOBgroup.com
Corporate Profile / Background
Background

About United Overseas Bank
United Overseas Bank Limited (UOB) is a leading bank in Asia with a global network more than 500 offices in 19 countries and territories in Asia Pacific, Western Europe and North America. Since its incorporation in 1935, UOB has grown through a series of strategic acquisitions and organic growth and today operates major banking subsidiaries in Singapore, Malaysia, Indonesia, Thailand and mainland China.

UOB provides a wide range of financial services including personal financial services, wealth management, private banking, commercial and corporate banking, transaction banking, investment banking, corporate finance, capital market activities, treasury services, futures broking, asset management, venture capital management, insurance and stockbroking services. UOB also has diversified interests in travel and property management.

In Singapore, UOB is a market leader in the credit and debit cards business, and the private residential home loans business. It is also a key player in loans to small and medium enterprises. Its fund management arm, UOB Asset Management, is one of Singapore's most awarded fund managers.

UOB is rated among the world's top banks, with a rating of Aa1 from Moody's and AA- from Standard & Poor's respectively.

UOB also plays an active role in the community, focusing its corporate responsibility efforts on the arts, promoting education and helping children. For three decades UOB has organised the prestigious Painting Of The Year Competition and Exhibition. In recognition of its contributions to the arts, UOB has been conferred the National Arts Council's Distinguished Patron of the Arts Award for the seventh consecutive year. UOB also encourages its employees across the region to be involved in its corporate responsibility programme through regular volunteer activities. This includes the annual UOB Heartbeat Run which is held in Singapore, Malaysia, Indonesia, Thailand and mainland China.

Our Mission Statement
Our mission is to be a Premier Bank in the Asia-Pacific region, committed to providing Quality Products and Excellent Customer Service.

Our Objectives

•To be recognised as a leader in consumer and commercial banking services in the region, supported by innovative treasury and investment banking products to provide total solutions to our customers.
•To create shareholder value by adopting a cost-effective capital structure and optimising the use of capital.
•To achieve 40% of our total profit from outside Singapore.
•To achieve 40% of our total income from non-interest income activities.
•To achieve Return on Equity of 15%.

Product and Services Offered
Conventional :
Credit Facilities
Deposits
Currency Offered : USD / SGD
Remittances / Funds Transfer
Trade Services including Standby Letter of Credit & Bank Guarantee