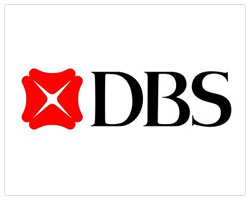 DBS Bank Ltd
Labuan Branch

Licence No 940031C
Swift Code : DBSSMY2A

http://alb-labuan.com/member-dbs.asp

Labuan Office
Address
Level 10 (A) Main Office Tower, Financial Park Labuan, Jalan Merdeka, 87000 F.T. Labuan, Malaysia.
Tel. No
6087 595 500
Fax No
6087 423 376
Contact Person
Noreen Wong
Email
noreenwong@dbs.com
Marketing Office
Address
#08-01 Menara Keck Seng, 203 Jalan Bukit Bintang, 55100 Kuala Lumpur, Malaysia
Tel. No
603 2148 8338
Fax No
603 2148 7338
Contact Person
Jeffrey Ling / Calvin Chan
Email
jefffreyling@dbs.com / calvinchan@dbs.com
Corporate Profile / Background
"DBS Bank Ltd, Labuan Branch (DBS Labuan) has been granted a Labuan Banking License since 29 Aug 1994 from Labuan FSA to operate as a Branch of DBS Bank Limited in Labuan with a marketing office at Kuala Lumpur.

Being a branch of the largest bank in Singapore and Sounth East Asia, DBS Bank Ltd with AAA/stable/P1 under itís financial institution ratings by the Ratings Agency of Malaysia, DBS Labuan provides a wide spectrum of non Ringgit (with exception of corporate guarantees) based corporate banking products and services to meet the need of corporate customers. Apart from this, in collaboration with Hwang-DBS (Malaysia) Bhd, DBS Labuan also offers a choice of investment banking services.

The following outlines the products and services offered by DBS Labuan:

1) Corporate Banking
a. Banking Facilities
b. Term Financing
c. Project Financing

2) Investment Banking
a. Capital Market
b. Advisory Services
c. Syndicated Finance

For further details of the products and services, please visit our website at www.dbs.com/my"
Product and Services Offered
Conventional :
Credit Facilities
Investment Banking Services; Deposits mainly to facilitate loan facilites maintain with the branch; SBLC & Bank Guarantee.